Wondering if Ryzen 5 CPUs will run Fortnite? let's find out
Updated November 18, 2022 9:23 am
Fortnite is one of the few battle royales that retained its popularity when the genre was still changing. This is because they are constantly adding new content to the game and making sure players return each season. If you haven't played it yet and happen to have a Ryzen 5 processor, you might be wondering: Can Ryzen 5 run Fortnite?
Now Read: Can Ryzen 5 Run Warzone 2.0?
Luckily, Fortnite isn't that graphically intensive. If you're concerned that your processor is weak, you can always turn the settings down and still get a decent frame rate. It's one of those games that can run on just about any mainstream PC out there.
However, to give you a better idea, let's look at the requirements.
---
System requirements for Fortnite on PC
Here are the minimum requirements to run Fortnite on Windows or macOS:
Graphics card: Intel HD 4000 on PC; Intel Iris Pro 5200
Processor: Core i3-3225 3.3GHz
Memory: 4GB RAM
OS: Windows 7/8/10 64-bit or Mac OS Mojave 10.14.6
While these minimum requirements will allow you to run the game, take a look at the recommended requirements for a better overall experience.
Graphics: Nvidia GTX 960, AMD R9 280 or equivalent DX11 GPU
Video memory: 2GB VRAM
Processor: Core i5-7300U, AMD Ryzen 3 3300U or equivalent
Memory: 8GB RAM or more
Operating system: Windows 10 64-bit
---
Our exam
Anyone with a processor equal to or better than the Ryzen 5 3300U can run Fortnite without any problems. In our testing, pairing a GTX 1060 (one of the most popular budget graphics cards) with a Ryzen 5 1600 gave us a smooth experience. On medium settings, we easily managed over 144 fps in almost every situation. It even reached around 180 fps.
This is an excellent experience and pairing this setup with a high refresh rate monitor is a no-brainer. So if you own a Ryzen 5 1600 or newer, you shouldn't have any problems.
We highly recommend getting a Ryzen 5 5600X as there is a good deal on them thanks to the launch of Zen 4.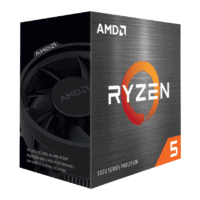 AMD Ryzen 5 5600X
---
Can Ryzen APUs run Fortnite?
Of course, the situation is different if you use a Ryzen 5 APU with integrated Radeon Vega graphics. This includes processors like Ryzen 5 3400G, 4600G and 5600G. Let's take a look at the results of the slowest processor of these three, the Ryzen 5 3400G.
Combined with 8 gigabytes of RAM, the Ryzen 5 3400G gave us an average of 50 fps at 1080p. Of course we turned down most of the settings. There are a few frame drops here and there, but it's still playable. If you lower the resolution a bit to 1920×1200 or 1660×900, you'll get much better performance.
Both the 4600G and 5600G performed much better. The former gave us over 70 fps at 1080p on low settings, while the 5600G gave us around 80-85 fps. Overall, this is a very playable experience.
If you're in the market for a Ryzen 5 5600G, you'll find one below: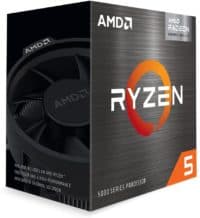 AMD Ryzen 5 5600G
---
Conclusion
In summary, the game is still playable if you have a Ryzen 5 3400G. You may need to lower the resolution scale and settings a bit to get a better experience. Ryzen 5 4600G and 5600G owners, on the other hand, need not worry.
Last but not least, you can still run the game on a Ryzen 5 2400G, but we won't recommend people to buy this processor in 2022. We also recommend that you upgrade if you already own this processor.